Changes in XSLT template
Follow these steps only if _internal/xsl/Template has been localized.
Step 1
Go to _internal/xsl/Template and edit.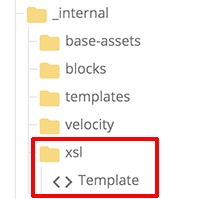 Step 2
Find <main role="main"> and replace it with <main>.
Step 3
Add landmarks after body class as shown below:
<xsl:variable name="landmarks" select=".//element[@action='hide'][@name='landmarks']/text()"/>
<xsl:value-of select="$landmarks"/>

Step 4
Submit to save changes.